We've probably not said the words "supply chain" so often as we have in the past few years. But with COVID, Brexit, looming recessions and the war in Ukraine, it's harder to move things than it used to be. So supply chain issues are becoming more regular and more noticeable.
But these issues aren't something you simply have to put up with; you can make them work for you. Find out how you can turn a supply chain problem into a positive with your marketing efforts.
What to do when stock is low
Running low on a particular product? Don't scale back on your marketing. Instead, make use of the scarcity principle to create desire and demand.
What is the scarcity principle?
The scarcity principle of persuasion describes how people view a product as more desirable when it's harder to get hold of. Coined by Robert Cialdini, he actually suggests it as a technique to persuade people to buy.
Sometimes this results in artificial scarcity, where businesses either deliberately limit availability of its product to generate buzz. Other times, there is simply a perception that this is what they're doing when, in fact, the business is simply suffering supply shortages!
Either way, you can use the scarcity principle to make your supply issues work for you.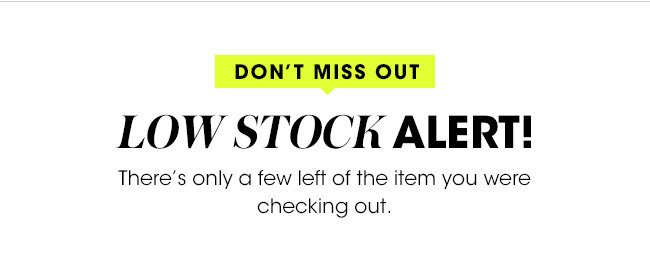 How to use the scarcity principle
You've undoubtedly seen the scarcity principle of persuasion put into practice. Any time you've shopped on Amazon and seen the message "Only 3 left in stock (more on the way", or you've been browsing for flights and seen a message saying "Only 7 seats left".
It may not be practical or even appropriate to use such messaging on your website, but you can still evoke similar feelings.
For example, you could update the copy in your Paid Search ads to reflect the scarcity of the product:
Our machine press regulators are so good, we only have 12 left in stock! More on the way, but don't miss out!
You can take a similar approach to your content marketing, updating your top performing pieces with messages:
Update: our customers love our memory foam insoles so much that we're almost out of stock!
You can also share social messages that feature photos of the products in question along with similar messages. However you communicate this scarcity to your customers, remember to use a positive tone to create that feeling of opportunity. But don't be afraid to make your customer feel like they're missing out: feelings of loss can be a greater motivator than a feeling of gain.
Manufacturers who fail to monitor their line temperatures are wasting 15% of their energy bills each day. Fit your lines with our monitoring tech: only 5 units left!
What to do when you're out of stock?
Sold the last one? The most important thing to do is this: don't stop marketing.
You might worry that you'll upset customers. That they'll think less of you for the stock shortages. That they'll go to a competitor.
But the scarcity principle still applies. There's just even more scarcity than before! Unless there is no hope of new stock coming in, you can use this time to create desire that your competitors can't satisfy.
Keep marketing out of stock products
The more desirable you can make your product appear, the more people will be willing to wait for it. With this in mind, edit your campaigns to heighten desirability and prestige.
Focus your marketing on your Unique Selling Points, so that your competitors fall short in any comparison your prospect makes.
And if you're using brand advocates or influencers, now is the time to lean into that strategy. Their voices will help create the sense that your product is desirable and worth waiting for.
Implement a simple way for prospects to get an alert when your product is back in stock, and drive traffic towards it. The easiest way to do this is with a simple email form. You could also take this opportunity to encourage prospects to sign up to any email newsletters you send out, but tread lightly here; pushing a newsletter too hard might put them off from signing up for the alert at all. 
And consider adding a small reward for those willing to wait; this can be anything from a freebie, a discount, or early access to new products. The size of the reward isn't important; the key is to make your prospects understand that you appreciate their patience! 
Provide alternatives
If you have suitable alternatives, you can pivot your marketing towards supporting these products instead. Shifting your customers' attention to alternative products can alleviate the risk of them buying from your competitors. It can also keep your revenue flowing.
Don't be nervous if these alternatives have a higher price; people will often pay a little more rather than wait.
Focus on brand awareness
When customers aren't able to buy, you might think it's time to reduce your marketing efforts: save money now, and spend it when customers are able to spend themselves. But this is a mistake.
By cutting back on your marketing, you reduce awareness of your brand, and give your competitors an opportunity to take your place. This isn't theory: brands that cut ad spending during the last recession lost 15% of business to competitors that boosted their spending.
Make sure the demand for your products will still be there when your supply issues are resolved. Create campaigns that focus on creating and reinforcing brand awareness. Remind your existing customers why they chose your brand and tell new customers why they should be ready to choose you.
Turning the negative into more sales
You'll never be pleased to learn you have supply chain problems. But you might as well find a silver lining to that cloud, and your marketing can do just that.
If you want more advice on marketing when stock is low, or when you've sold out entirely, get in touch with our team. We'll use our expertise to get the most from your campaigns and grow your business even while you're supply chain is disrupted.